A film campaign to launch a five-year funding initiative for an iconic national charity.
Challenge
Continuing our creative partnership with BBC Children in Need we were asked to create a film to launch their fundraising campaign SPOTacular. The charity were keen to reach a diverse audience across the UK, particularly engaging a younger audience than they usually do. The challenge for our team was to create a film that felt appropriate for a very broad audience, and represented a diverse and multicultural population.
Context
Children in Need exists to make sure that every child in the UK has the childhood they deserve – and the support they need to thrive. The SPOTacular annual appeal in November inspires communities across the UK to come together, raise funds and show support.
The charity funds thousands of charities and projects in every corner of the UK, that support children and young people to feel and be safer, have improved mental health and wellbeing, form better, more positive relationships and be given more equal opportunities to flourish.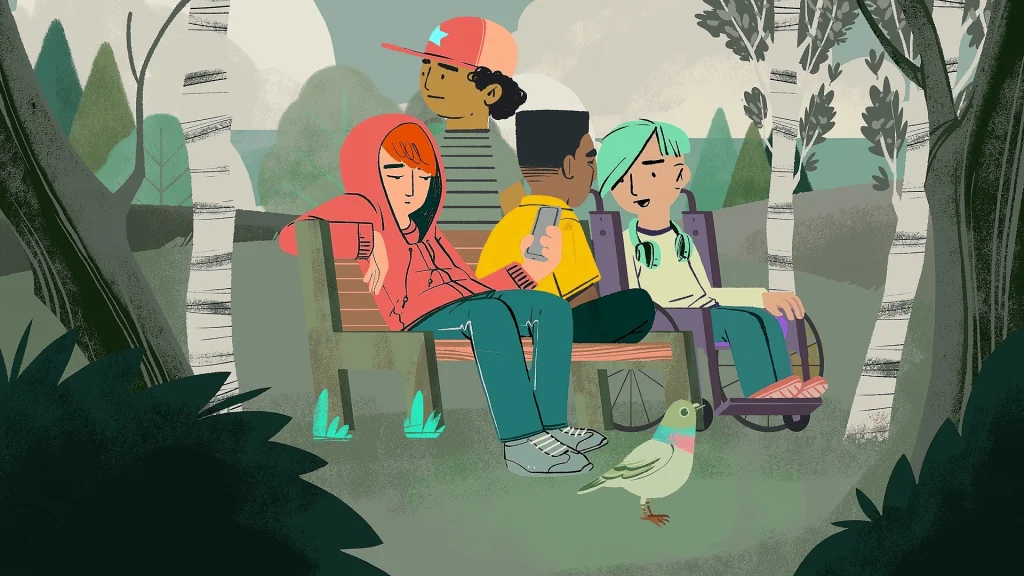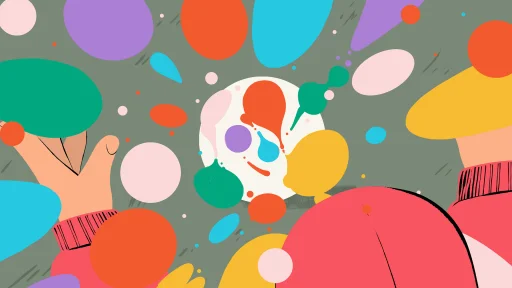 A Positive Story
Although the story is set within the context of the financial crisis, Children in Need were keen that we told the story in a positive way, not shying away from the facts, but focusing on the benefit of the work the charity does and how they help children.
The story starts in a subdued colour palette showing ordinary northern streets, shops and seaside towns, with a sense of melancholy representing the difficulties so many communities are experiencing. Colourful bouncing balls start to appear and bring joy and hope wherever they land. Every corner of the UK is positively affected by the bouncing spots just as Children in Needs helps children all across the nation.
Scriptwriting
Working closely with the Children in Need team we developed a script using a spoken-word poetry style that told the story in a way that felt inclusive and empowering. The script was voiced by rap artist Lady Leshurr, adding a genuine warmth and authenticity to the message.

Animation
We focus the action in the film on the fundraising activities but also on lots of playful moments of interaction with the campaigns iconic spots.
This element enabled us to be playful with the narrative and create moments of joy and surprise.
Where the spots bounce they leave a splash of colour and joy, and add vibrancy to the scene. The way the spots are introduced builds up to an explosion of colour and life leading up to the final shot showing fundraising activities and the transformative effect the charity's work has on young people's lives.
Artwork style
We created a visually striking and contemporary look for the film using a bold and colourful graphic style. The artwork has a comic book influence, using halftone textures and a line-work style designed to appeal to a young audience.
The colour palette is bright and optimistic, creating a positive feel and telling a story of hope.

The result
The launch event included a main film, and a series of shorter cut downs that were played across the charity's socials channels and as part of a paid media campaign, helping to general interest and excitement ahead of the launch, and encourage people to get involved with fundraising activities.
Contributors & Credits
Creative and animation direction: Karl Doran
Production management: Emma Shaw
Script writing: Michelle Collier
Art direction: Winston Tsang
Art lead: Guy McKinley
Storyboard artists: Winston Tsang - Guy McKinley - Nadia Kawafi
Artists: Guy McKinley - Nadia Kawafi - James Lawson
Animation lead: Winston Tsang
Animators: Winston Tsang - James Lawson - Inês Silva - Guilherme Gomes
Sound design: Nick Granville-Fall
"After working with Flow before we knew they were the perfect people for the job and absolutely trusted that they'd create a film that was beautiful and poignant, but positive and uplifting too. We're so happy with the film and can't wait to share it."