A creative communications campaign for The Mental Health Foundation's flagship annual event Mental Health Awareness Week.
Challenge
The biggest challenge in this campaign was creating a broad appeal that resonated with a wide and diverse audience. The campaign aimed to reach literally every UK adult, a huge task but a worthy ambition to help as many people as possible at a time when we all needed a boost to our mental health. The look and feel for the campaign, the messaging and the call to actions had to be accessible and appealing for it to reach and engage with the UK's diverse population.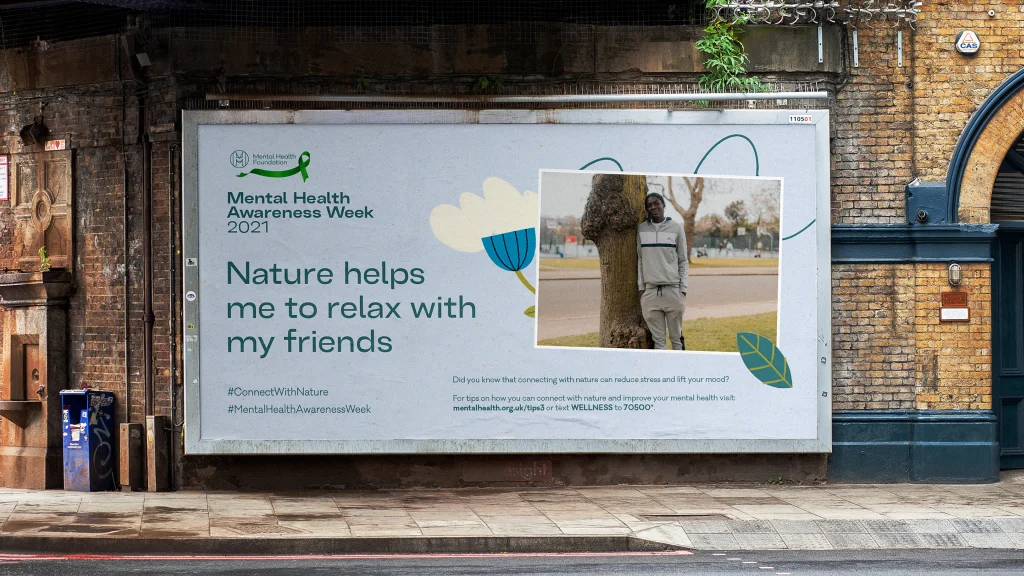 Campaign objectives
The Mental Health Foundation has a clear mission, to help people to thrive through understanding, protecting, and sustaining their mental health. For the second year we partnered with the charity to deliver this hugely ambitious and complex campaign, helping them to reach millions of people all across the country.
The MHAW campaign has a different theme each year, the theme for 2021 was Nature, and specifically the mental health benefits of spending time in and connecting with nature.
As strategic creative partners, we helped the foundation to define the campaign objectives, key messaging and call-to-actions, including writing copy templates for a huge range of materials across all platforms for the campaign.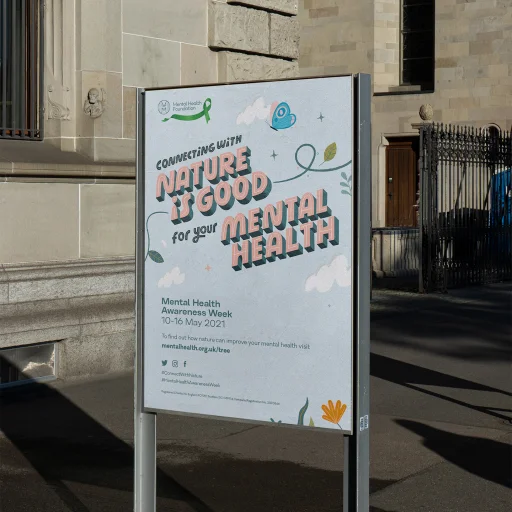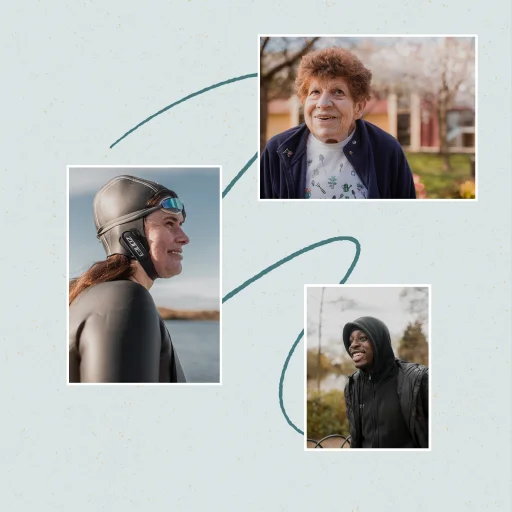 Campaign creative
To make the visual style of the campaign appealing and relevant we used a mixed media approach of combining quirky illustrations, photography, film and bold hand drawn typography.
This enabled us to create an adaptable campaign that resonated with each platform's audience, no matter what their personal circumstances were. We also ensured that we showed a diverse mix of races, abilities and environments to help the content connect with everyone in the UK.
Animation
We created an animated hero film in the mixed media campaign style to help them share the message and talk about the importance of Nature to our mental health.
The script had to be fun and engaging, to get across the seriousness of the message, but in an accessible and friendly way.
The quirky, illustrative style mixed with filmed footage and photography gives the film warmth and a broad appeal that that enables the film to be accessible to a diverse audience.
Campaign branding
We created the branding for the campaign, to enable all campaign communications to have a cohesive and consistent look and feel. Then produced literally hundreds of campaign assets for use across multiple platforms and communications methods, which all needed to feel connected all part of the week-long campaign.
The creative style fed through this huge bank of deliverables, including animation, supporter packs, OOH advertising, case study films, reports and social media content.
Typography
We worked with a typographer and hand lettering artist for the hand-drawn typography element, creating positive short messages that would uplift people and inspire them to find out more and get involved.
These became campaign slogans and were used in a range of different ways, from the main campaign lock-up to a suite of social assets, as well as print and OOH advertising.
Illustration
Illustration was an important part of the campaign, adding a playful and relatable element and helping us to show a diverse range of people connecting with nature in a huge range of ways.
We worked with an independent illustrator to create a set of lovely illustrations that were used across all campaign assets. The style is childlike and full of joy, adding warmth and moments of humour while delivering serious content and guidance.
Personal stories
We travelled the length and breadth of the UK filming some personal stories of how connecting with nature in different ways has helped peoples mental health.
From London to Wales, Scotland to Northern Ireland, we directed the shoots, and interviewed some amazing people telling their nature stoires.
The result
Our work with the Mental Health Foundation enabled them to gain more reach and resonance this year than ever before, helping to grow the charity and the MHAW brand.
Through a bold creative style, clear and inclusive messaging, they have grown their following and, hopefully, helped a lot of people to improve their mental health through connecting with nature.
"Thank you so much for your amazing work – it's been incredibly important for growing us and Mental Health Awareness Week as a brand."
Contributors & Credits
Creative Direction: Karl Doran
Production managemnt : Emma Shaw
Design : Mark Higginson - Josh Taylor
Illustration : Beatrix Hatcher
Type design : Loz Ives
Animation: Winston Tsang - Inês Silva - Steve Kirby - Jordan Painter
Film shoot and edit : Matt Pitman